Hydrafoils and River Cruises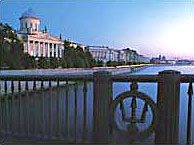 If you're here between the months of May and October it is well worth hopping on a boat and checking out the city from the water. Not only does it show you the city from one of it's most fortuitous angles, but it greatly decreases the chances of you getting run over by a tram while taking pictures.

River boats leave from the jetties in front of the Hermitage and in front of Senate Square. Tickets are available on a first come, first served basis from kassas at the locations, and price discrimination rules may apply. These large boats cruise slowly up and down the Neva, puddling along at a leisurely pace in order to sell more sandwiches and warm champagne.

A more scenic alternative is a canal tour. One way to do this is to go to the dock on the Fontanka River just north of Anichkov Bridge, pay your fare and get on a boat with all the other people. For a more personalized option, try the so-called water taxis. These are private boat owners who hang out by the Fontanka dock and also at a loading point on the Moika River just north of Nevsky Prospekt.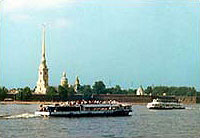 These water taxis are particularly enjoyable since you can cruise the smaller canals that the big tour boats can't manage as well as stop wherever you want along the way, which is handy if you run out of drinks. Cruising the Griboyedov and Kryukov canals and the Moika River is a great way to see St. Nicholas' Cathedral, the area around Teatralnaya Ploshchad, and New Holland. At night when the bridges are up you can sometimes get these water taxis to take you to any water-linked destination.
A Foreign Affair

7227 North 16th Street, Suite 240
Phoenix, AZ 85020
(602) 553-8178
fax (602) 468-1119

Contact Us



THIS PROGRAM IS THE SOLE PROPERTY OF A FOREIGN AFFAIR AND MAY NOT BE COPIED IN ANY WAY OR FORM WITHOUT EXPRESS PERMISSION FROM A FOREIGN AFFAIR.

© COPYRIGHT 1996-2019 - ALL RIGHTS RESERVED.