LE SERATE GRANDI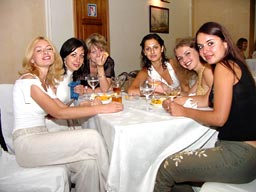 Non avete viaggiate qui per solamente ammirare le belezze artistiche e mangiare la cucina locale! Siete andati a trovare la sua fidanzata carina con cui potrete provare la gioai di vivere la vita nuova.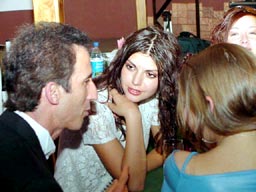 Tre serate grandi sono buone luoghi per incontrare una ragazza brava. Molte donne che vivono alla città e vicino alla città frequentano le serate grandi che sono per invito. Infatti prima di andare alla serata riceverete la lista delle donne che abbiamo invitato alla serata. Sempre donne and uomini sono rimasti contenti delle nostre serate dove è piacevole passare il tempo.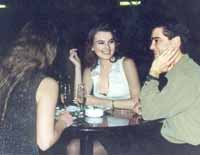 Le serate vanno con cibo, bevute e musica. Partecipando tre serate incontrerete le donne varie che speriano di trovare il promesso sposo con cui comincieranno la vita felice. Quando troverete la donna con cui vorreste incontrare di nuovo chiedete al suo telefono. Poi il nostro impiegato sarà pronto a fissare gli appuntmamenti colle donne.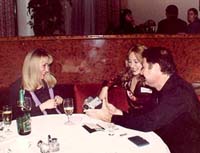 Non è facile orientarsi fra migliaia delle donne simpatiche. Pensiamo che dobbiate fare la lista dei vostri desideri. Per esempio se volete aver bambini e la donna, invece, non ha voglia di averli potete scusarsi e far amicizia con la altra donna.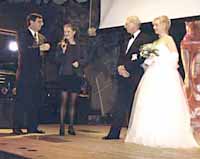 Molte donne parlano l'inglese un po, ma saranno i traduttori a vostra disposizione alle serate per quelli servizi non dovrete pagare. Vi consigliamo di cambiare i traduttori, cosi potrete apprezzare le sue qualità. Dopo le serate vi aiuteremo in ogni modo fissare appuntamenti colle donne che vorreste conoscere più da vicino. Siamo convinti che possiate conoscere bene una ragazza se vi mostrerà la sua bella città. Se avete fatto la conoschenza colle donne anche per corrispondenza e vorreste invitarle alle serate saremo felici di aiutarvi.
A Foreign Affair

7227 North 16th Street, Suite 240
Phoenix, AZ 85020
(602) 553-8178
fax (602) 468-1119

Contact Us



THIS PROGRAM IS THE SOLE PROPERTY OF A FOREIGN AFFAIR AND MAY NOT BE COPIED IN ANY WAY OR FORM WITHOUT EXPRESS PERMISSION FROM A FOREIGN AFFAIR.

© COPYRIGHT 1996-2019 - ALL RIGHTS RESERVED.