Welcome to Baltic Star Hotel *****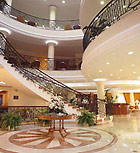 The Baltic Star Hotel of St Petersburg is located in near Konstantine Palace a tranquil estate in the souther suburbs near the shores of the Baltic Sea.

This Luxury hotel features 7 room units with kitchen.

Amenities include a swimming pool, gym & sauna.

Transfers to the city center 30 km away will be best accomplished by taxi.



A Foreign Affair

7227 North 16th Street, Suite 240
Phoenix, AZ 85020
(602) 553-8178
fax (602) 468-1119

Contact Us



THIS PROGRAM IS THE SOLE PROPERTY OF A FOREIGN AFFAIR AND MAY NOT BE COPIED IN ANY WAY OR FORM WITHOUT EXPRESS PERMISSION FROM A FOREIGN AFFAIR.

© COPYRIGHT 1996-2018 - ALL RIGHTS RESERVED.